"This scholarship is one way for me to show how grateful I am to my parents, Tulsa Families, tennis organizations, and others who helped provide what I needed to succeed in my career."
— Janet Thomas Griffith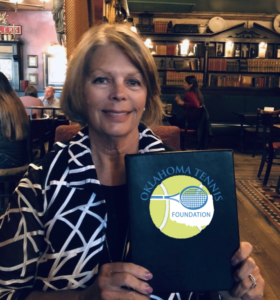 Janet Thomas Griffith was born in 1954 in Tulsa, Oklahoma. Her tennis career began in 1964 when her father gave her a tennis racquet for her 10th birthday. She was ranked #1-2 in Oklahoma and the Missouri Valley section every year in her age division in Singles and Doubles.  During her junior career, she attained National Singles rankings of #5, 7, 9, 10, 14, and 21, with her highest ranking being #4 in Girls 14's.  She earned a few National Doubles rankings and had a second National age division ranking two different years.  Janet qualified to play in more than her age division every year with the most being in 1968 when she played in the 14, 16, and 18 Nationals.  She was selected to the Missouri Valley Intersectional Team 1968-72, won the Cotton Bowl Singles at age 11, won the Sugar Bowl Singles and/or Doubles the next four years, won the National Hard Court Doubles in 1968, and received two National Sportsmanship Awards.
Janet played her freshman year at Central State University in Edmond.  Her record was 22-0 playing #1-2 Singles and #1 Doubles.  At the NCAA Nationals, she was one of eight girls selected to play on the Junior Wightman Cup Team.  She transferred to Lamar University in Beaumont, Texas, had a winning record at #2 Singles and Doubles, and was listed among the top 15 amateur collegiate players in the U.S. after the NCAA Nationals.  She then transferred to the University of Oklahoma and played #1 Singles and Doubles with a winning record and then won the conference title.  In 1977 Janet graduated from University of Central Oklahoma with a Bachelor of Science in Home Economics.
From 1978-2004, Janet played competitively, winning the Missouri Valley Senior 25's and 35's Singles and advanced to the quarterfinals at the National Family Equitable Tennis Challenge while 5 months pregnant.  She played in USTA leagues from 1991-2004.  In 1991 she and her team won the Women's 5.0 Nationals, and in 1993 they came in 3rd.  After that she played in 10.0 Mixed Doubles going to Nationals every year and coming in 3rd nationally in 2004.
During college summers, Janet taught at the Oklahoma City Golf & Country Club and at Woodlake Racquet Club.  Later as a USPTA Teaching Professional, she held Head or Assistant Pro positions at the Tulsa Tennis Club, Tulsa Southern, and Hillcrest Country Club in Bartlesville teaching in the National Junior Tennis League program.  She was Head Women's Tennis Coach at Oral Roberts University for 5 years, had winning seasons every year, and was named Conference Coach of the Year in 1985.
After retiring from teaching and coaching tennis in 1991, Janet owned and operated a vending machine company from 1991-2013.  Janet was inducted into the Missouri Valley and Oklahoma Tennis Hall of Fames in 2011   Janet was a founding member of the Oklahoma Tennis Foundation where she served from 2012-2017. She was honorary Chair for the Tulsa La Fortune "Tennis Ball" fundraising event 2013-2014 for new courts.  In addition Janet served on the Tulsa County Park Board 2013-2018 and was a Volunteer Coach for NOAH high school tennis teams 2015-2020.  She has been on the Oklahoma Tennis Hall of Fame nominating committee since 2015.
Scholarship Description and Criteria
The Oklahoma Tennis Foundation awards a $2,500.00 scholarship to a female Oklahoma resident tennis player who is committed to playing collegiate tennis.  The recipient will receive a one-time $2,500.00 scholarship to be paid to the Bursar's Office once the recipient is enrolled,  and the collegiate tennis coach confirms the OKTF recipient will be an active part of the tennis team.
Applicants must be Oklahoma high school seniors or Oklahoma residents who are currently playing collegiate tennis. Recipient may play collegiate tennis out of state.  The scholarship is not need-based.
Applicants must provide: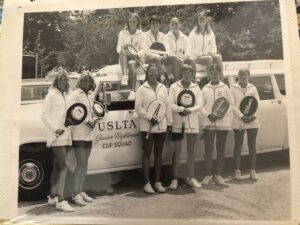 Parent/Guardian tax return (page 1 and 2 of 1040 only)
Official Academic Transcript
Two letters of recommendation from counselors, coaches, teachers, etc., relating to leadership, dedication, integrity, teamwork, etc.
A well-written paragraph – "How Will the Scholarship Benefit You, Including "What are Your Goals in Tennis?"
Applications will open April 15, 2023, and the deadline is June 1, 2023.