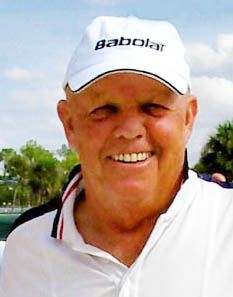 WAYNE HIRST
Wayne Hirst, 2003 Oklahoma Tennis Hall of Fame inductee, was raised in Oklahoma City and graduated from Harding High School.  He was a 3-time Oklahoma State High School Doubles Champion, partnering with his brother, Jerry, and with Billy Buckley.
Possessing an outstanding serve, volley, and overhead, he dominated the Oklahoma State Open Tennis Tournament over the years.  He won the Boys 16, Boys 18, Men's Open, Men's 35, Men's 45, and Men's 50 Doubles Championships.
Wayne graduated from East Texas State University where he was a two-time NAIA All-American.  He was inducted into the East Texas State University Athletic Hall of Fame.
For five consecutive years (1998-2002), Hirst was selected to play for the United States on the Gordon Cup Team in Toronto, Canada.  In 2000, he represented the United States on the International Friendship Cup Team in Myazaki, Japan.
In 1976, he founded Hirst Imports and used this business to sponsor charitable events to raise money for scholarships. The Hirst Hospitality Fund has raised $160,000 and provides 16 to 18 scholarships annually to the Oklahoma State University Hotel and Restaurant School.
The Oklahoma Tennis Foundation awards a $1,000.00 scholarship to a high school senior who will be entering college and who has participated in high school varsity tennis during the 2020-2021 school year.  The scholarship is intended to assist with tuition and is NOT need-based.
Apply Online  download application
2019 Scholarship Winner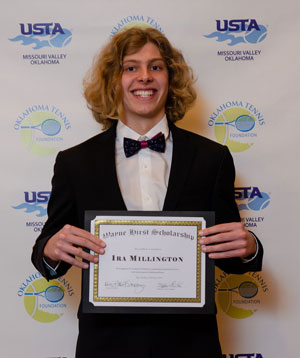 Ira Millington,
Norman High School
Carly Parks from Ponca City, also received the 2019 Wayne Hirst Scholarship.